Chapter 11 – ProcessManager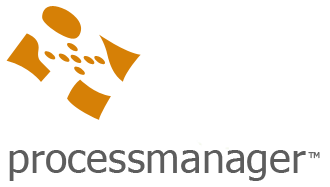 See What is ProcessManager? video tutorial.
See How to Setup ProcessManager video tutorial.
Goto ProcessManager website.
11.1 – What is ProcessManager?
ProcessManager is a web based solution that helps organizations be more productive and efficient in developing, documenting and communicating business process improvements. It is designed for companies that need to manage and control process documentation and process change. Through its online repository, ProcessManager stores, manages and distributes all process initiative information. ProcessManager provides 1024 bit security to protect vital data, a complete revision history and detailed audit trail, and user defined approval process.
Key Benefits:
ProcessManager's setup requires no product installed on a computer. Account and workflow setup can be literally accomplished in minutes.
Maintain and manage process models in a central repository. Data is widely accessible but secure.
Ensure accurate document history and roll-back capability.
Reuse organization elements across multiple models. Build consistent models and speed development.
SecureApprove automates review and approval process. See the status of each review, approval and final signoff.
Manage supporting process documentation, such as Microsoft® Office files, in the ProcessManager repository.
Monitor work in progress and obtain e-mail notifications when documents are modified.
11.2 – Getting Started
ProcessManager provides two types of access to the users.
1. Admin User
2. Normal Users
Admin users can add normal users, put policies in place for normal users, reset passwords, grant admin rights etc. Admin user can also upload models and files, setup folder policies and access.
Normal users can upload models and files setup access for other users and assign approvers.
11.2.1 – Sign In & Overview
Sign In
1. Goto ProcessManager website.
2. Enter the User ID provided by ProcessModel or system administrator.
3. Enter the Password provided by ProcessModel or system administrator.
4. Click Sign In.
Global Navigation Bar

The Global Navigation Bar provides the high level navigation through ProcessManager. All other functions are subsets of these primary items.  The following options are available (from left to right):
1. Overview of Folders & Documents
2. Folders
3. My Account
4. Admin Tools (only available for admin users)
5. Advanced Search
6. Search
7. Signed in as… Sign Out
11.2.2 – Overview of Folders & Documents

This overview will give an expanded tree view of the entire company's folders and documents.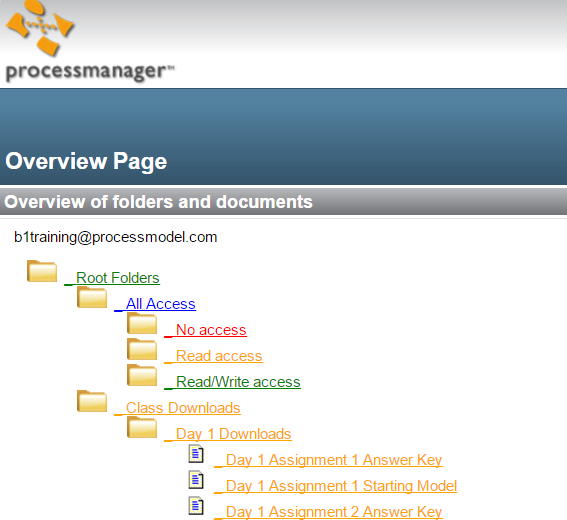 The overview is color coded indicating different access permissions to folders and documents. Specific access right assigned to users or groups are shown in color-coded names in parentheses to the right of the folder or document.
* Blue: All access.
* Green: Read/Write access.
* Orange: Read access.
* Red: No access.
* Black: No access list defined.
11.2.3 – Folders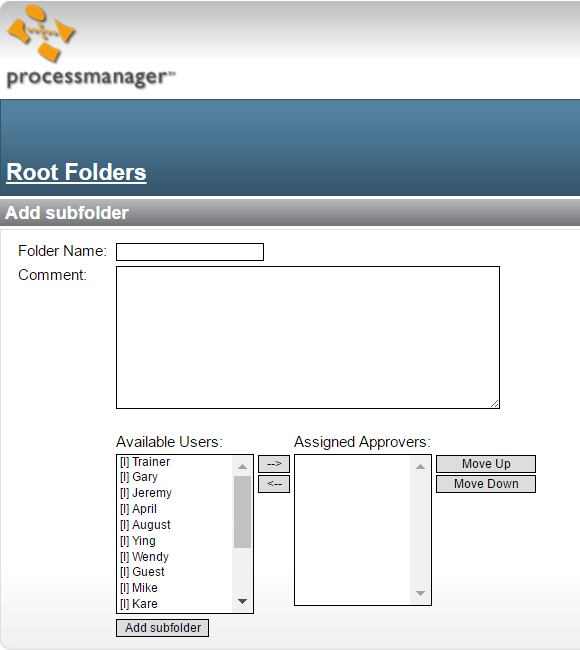 The starting or highest level folder in the system is called the Root folder. Only an administrator level user can create folders in the root. Documents cannot be added in the root folder. This is intended to encourage the saving of documents in a structured folder format which will make it easier for users to navigate through a company's data. There may be several projects defined in ProcessManager, planning and maintaining a logical folder hierarchy is important.
Adding a Root Folder

To add a new folder at the root level
1. Click the Folders icon in the Global Navigation bar.
2. Click the Add Folder 

 icon in the blue Local Navigation bar.
3. Enter the folder information and click the Add subfolder button.

 Adding approvers to a folder will require those users or groups to approve or reject any documents added to the folder. Approvals are required in the order shown in the Assigned Approvers list.
Folder Options

After adding a folder and clicking on the folder name in the folder view, the following options are available;
* Add Folder.
* Add Document.
* Notify of Changes (e-mail notifications of folder changes).
* Edit Folder.
* Move Folder.
* Delete Folder.
* Edit Access.
11.2.4 – Documents
Documents can be any files required to manage a project, including ProcessModel model packages, spreadsheets, word processing documents, graphic files, slide presentations, etc.
Adding Documents

1. While viewing the desired folder location, click the Add Document 

icon
2. Click the Browse button to select a file from the local drive (or network drive). Enter the document information. Then click the Add document button when ready to upload the document.
3. Adding reviewers or approvers to a document will require those users or groups to approve or reject the document. Until either the final approval has occurred, no user will be able to see the added document in the folder view except:
* the owner.
* an administrator.