The largest manufacturer of office furniture in the world, The Company* Inc. is dedicated to helping people in offices across the globe work effectively in the utmost comfort. The realization of this goal begins in their manufacturing plant. One of their divisions, The Company North America, wants to expand manufacturing capacity within the confines of existing floor space. Management decided that one they could accomplish this objective by eliminating unnecessary inventory from the manufacturing floor, and streamline assembly line processes. They concentrated on the Kanban, the receptacle that houses parts needed to assemble office furniture. Kanban's are the key components of inventory systems used to control work in process throughout The Company Inc.
Problem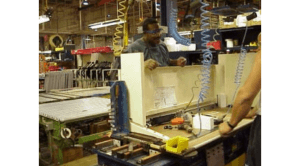 Making sure the Kanban's are the correct size is always a challenge. A Kanban that holds the right amount of parts will never run out of stock and it won't cause extra money and materials to be tied up in excess inventory. The manufacturing department consistently endeavors to make the Kanban's large, just in case extra stock is needed, while the accountants are constantly trying to pull back and minimize Kanban size to keep costs down. Therefore, the challenge is to keep a happy medium between the two objectives.
Solution
The simulation tech team at The Company wanted to help manufacturing find a way to help them correctly size their Kanban's. They felt confident that ProcessModel simulation modeling would do the job. A Kanban model was designed, and then—to get a proper idea of the size of Kanban needed— the manufacturing process was divided into three hypothetical areas: the fabrication of steel parts, the painting of these parts, and then final assembly of these painted parts.
Most of the Kanban's used in the manufacturing process are utilized between fabrication and paint, so this is was input into the model. With simple modifications to the arrival cycle, it was discovered that each Kanban part can be tested and tracked.
First, the model user enters the part number to be tested. He then adds the cycle time for the replenishing process. The model tracks the variable "quantity on hand" that allows the model user to see if the quantity was sufficient or if it "ran dry." Consumption and replenishing processes can also be viewed at this point.
Results
We have seen a $3,000 saving in material and labor on the three parts tested so far and have also freed the much needed floor space. There are approximately 120 Kanban's in our plant which we estimate will save additional $100,000 and free up 50,000 to 60,000 square feet of floor space. With six additional manufacturing plants in our Grand Rapids and Kentwood complexes, these could add an additional $600,000 in material and labor savings, plus 300,000 to 1,800,000 square feet of floor space.
*The name of the company has been removed.