What is Process Simulation?
Discover what you need to know make a process perform in the computer just like it does in real life. See how a process improvement tool links the important information together. Here are five critical elements to creating a process simulation:
The backbone of the system is a flowchart. The flowchart describes the path things follow and rules for processing.

Inputs into the model are described by real schedules or statistically representing what has happened in the past.

People or equipment can be described by the hours they work, skill levels and cost.

Variation in the process or in task times are represented by converting raw data into formulas representing that variability.

Key performance indicators also known as KPI can be added for any aspect of the system.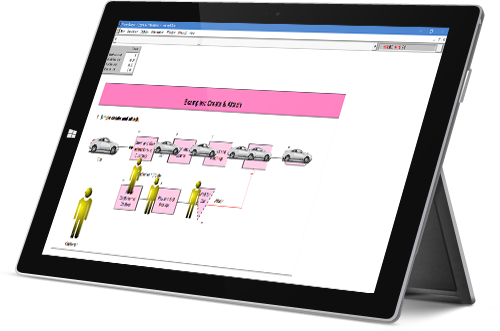 What Should be Simulated?
Most processes can be simulated. Any process that includes a process flow with events like arrival times, processing times, resources times etc can be simulated. Processes that have variability and change over time are the ones that will show the most benefit from being simulated. An example would be a restaurant. No one can guess exactly how many customers will come in a group and how to effectively reduce line wait times. Only process simulation that can take in past data can help efficiently predict the future.
How will this help me?
You can see a future process operate in the computer before it's created…and uncover what will work… before you invest capital. You can change the process or staffing levels or change equipment and see the result…in seconds.

Process simulation allows you to "know before you go" and to see why changes will work. You can also see what doesn't work and know the reason why. Meetings are much difference when you have the confidence that includes "why" process changes will be successful.

Process Simulation allows the entire system to be viewed together. When a process is variable, timing problems are often overlooked. Hidden dollars are often a result of the timing of when process problems occur. Use simulation to find the hidden dollars.
Process Simulation is the most accurate method of predicting the outcome of a process change. See how it works now. Get a trial copy for yourself, or click on the video link below to see how people are using ProcessModel to make major decisions.