An entity is routed to an activity to pick up another entity which is waiting in the input queue of the same activity. The other entity is then attached to the entity doing the pick-up. The activity Action logic and activity time is then processed.
Suggested Technique
1. Route the entity doing the pick-up with a Pickup routing.
2. Route the entity to be picked up to the same activity as the Pickup routing. (Use any routing except Attach or another Pickup routing.)
Example: A fast food restaurant models its customers coming in and placing an order. The order is processed, and the customer picks up the order.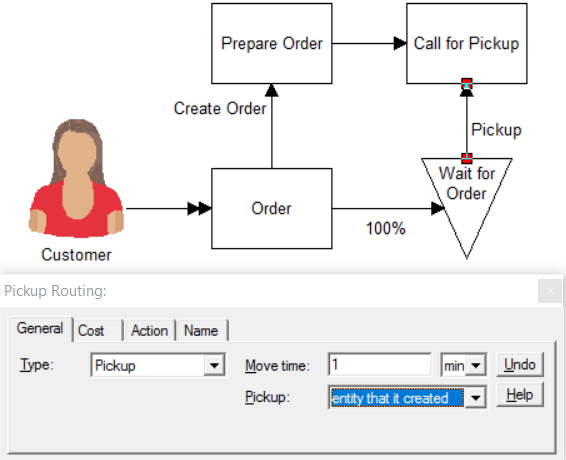 TO DO: Create the Customer entity and the activities and routings as shown above. Set the Pickup route to pickup entity that it created . This assures that the Customer picks up his or her own order once it is prepared.
 To learn more about the Pickup routing, see Pickup.