When Will You Need This?
When you need to define all resource shifts from a single page.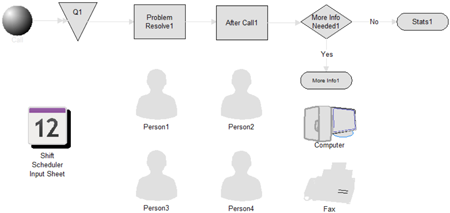 Model Object
The following model object can be found in the model objects directory: Setup \ Shift Scheduler.
Ease of Use: Moderate
Ease of Modification: Moderate
How to Use the Model Object
1. Open Your Model
Open your model or create a new blank model.
2. Insert the Model Object into Your Model
1. Locate the model object Shift Scheduler and select the insert button.
2. Move the cursor to the point of insertion and left mouse-click. The upper left corner of the model object will be inserted at the location of the mouse-click.
3. Update Objects
1. Add resources to your model as required.
4. Open the Excel File
Right click on the Shift Scheduler Input Sheet calendar icon and click on the third option from the bottom to open the Shift Scheduler Input Sheet vx-x Excel file, where x-x represents the version number of the Excel file.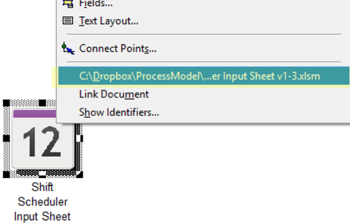 Before using this Excel file for the first time, or after changing your model name, make sure that a manual export of data is done via ProcessModel. From your model, click Tools \ Export Data, click 'Yes' to all prompts until the data export file opens, close the data file and then use this Excel file.
Click Enable Content if prompted
5. Setup the Excel File
1. Once the Shift Scheduler Input Sheet vx-x Excel file opens click the 1. Setup Workbook button. This will instruct the Excel file to ping ProcessModel and fetch the name of all resources from the active model.
2. Define each resources shifts, working days, lunch breaks and cost.
3. Click 2. Update Shifts to create / update shift files for the resources.
This component is made to handle shifts defined within a single day.
6. Completion
The model object is now integrated into your model, you should now be able to save and then simulate the model.