A "Server Busy" prompt may be received in any of the following cases:
An object is added to the layout window.
When a model is saved.
When a model is simulated.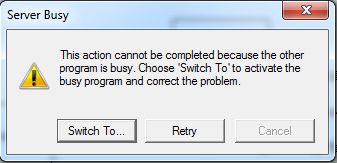 Reason
The prompt is displayed if the application does not receive communication between translation modules within the expected time frame. This is often caused by the use of imported graphics which take a longer time to translate, It could also occur if the model is extremely large or if your computer is low on memory.
Solution
This is not an error condition. It is just a warning. So you should be able to click Switch To and&nbs