Update:
 This is no longer the latest version of ProcessModel, see the
changelog
for information on the latest software.
We have released the Beta version of ProcessModel 5.5 process simulation software! As you can tell we are a little excited. A list of features and fixes are provided below:
Process Simulation File Management
No more wondering what file to open or send. No more creating packages. A single common file format is used to speed model development and protect your valuable data. All files are backward compatible with previous versions. Backups are automatically captured and there is a quick and easy recovery from backup files. Read more…
Process Simulation Templates to Read in Data
Have you ever wanted to transfer information from an outside file into ProcessModel? How about creating a simple interface to a model? It is all possible with version 5.5 and easy templates. Read more…
Model Objects at Your Fingertips
Model objects are incredible time savers and can give you modeling capabilities above your "pay grade." A couple of problems might have kept you from using model objects in the past. First, you had to search online and second, you had to install model objects to discover what they do. Not in version 5.5. Model objects are embedded in the building process and you can see process simulation elements before you install the object. Read more…
New Model objects
A model object is just like getting a new feature in ProcessModel, except that model objects can be added without IT intervention. Many new model objects have been added. For an example there is a model object to analyze the flow of parts through a job shop and potential flow of future orders. There is another model object that changes the capacity of an activity during the simulation. Wow, Read more…
New Toolbars
A Simulate button and fast access to all the model objects are now on the toolbar. Read more…
Output Formatting Saved with a Model Save
Save a model with a new name and the graph and chart formatting will save at the same time. Read more…
Model Narration
Make models that talk to your audience. That's right, send a model that shows a video, uses a recorded voice or pictures to better explain your proposition. Read more…
Industry Specific Installs
See more of what is important to you and less of everything else. Industry specific installs provide example models, model objects and palettes that are specific to your industry.
New Palettes
Icons are the frosting on the cake of your model. Not only do they make it look better but they also make it taste better. Many new icons are included for healthcare, logistics and military applications.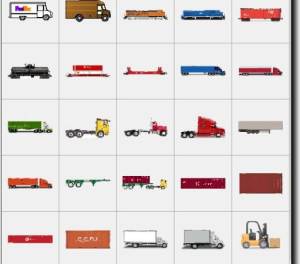 Automatic Licensing
All you have to do is enter your email address and ProcessModel will automatically license. No interaction with support is needed. Of course, manual licensing will still be supported.
Error Management
A simulation package has unlimited ways in which things can be combined. All these possible combinations lead to some pretty unusual error situations. We looked at the possible combinations and discovered the highest probability errors that wouldn't have had a clear message. Now, more than 100 messages help you to discover what needs to be corrected to complete your model in record time. Read more…
Become Part of the ProcessModel Beta
Gain access to the new feature before the general public — sign up to be a beta tester. You will receive automatic notification when the final release of version 5.5 is available. *If you provide serious feedback you will receive a free admission to any ProcessModel training class including: Basic's 1, Basic's 2, Advanced or FDI.
To apply to be a beta tester, call 801-356-7165 X169
Update:
 This is no longer the latest version of ProcessModel, see the
changelog
for information on the latest software.