When you have achieved well-earned success and built a name on the foundation of excellence, you want to continue always in that important direction.
The Company, a world leader in building materials and glass fiber composite systems, operates over 125 manufacturing facilities in twenty-two countries—with sales of five billion dollars annually. Building material system products include insulation, roofing, house wrap, vinyl siding, windows, and patio doors. In addition to the manufacture of engineered pipe systems, The Company Corning provides glass fiber reinforcements and yarns for the manufacture of a wide variety of composite materials.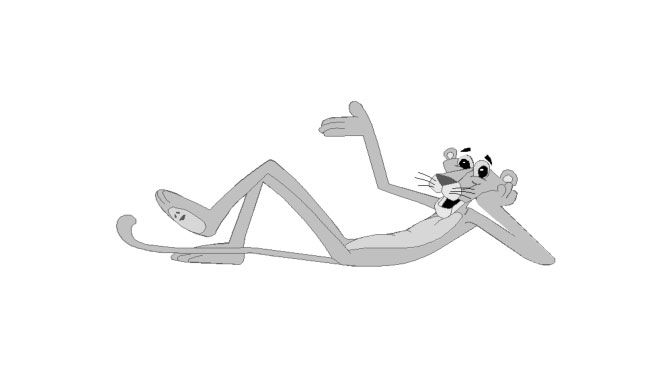 For the past four years, understanding and improvement of business processes has been a fundamental component of the development and delivery of information systems at The Company.
Information Systems within The Company is organized from three different perspectives. Global Development Teams responsible for producing and delivering information systems products support the company's processes, such as customer operations, materials management and logistics. Most The Company information systems are utilized by all businesses globally.
Regional Information Systems executives act as liaisons to individual business units, identifying the unique needs of each, and participating in establishing priorities for process-driven enhancements. They focus on improving the way Information Systems performs their work, delivering methodologies standards, tools and training to their professionals.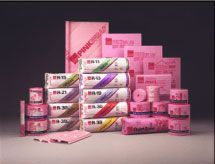 The Company Information Systems engineers had just implemented a brand new multi-million dollar management system. Their job was to make sure this huge system was implemented correctly. Now that this project is in the final stages, they are taking the initiative to go a step further and optimize the use of a new management system. They are integrating both manual and automated systems so everything works together in an optimal manner. In addition, the I.S. engineers proactively took it upon themselves to teach the people who use these systems so that everything would run smoothly. Their goal was to save the company millions of dollars in unnecessary expenditures.
The I.S. Product Life Cycle integrates the analysis and evaluation of the business process with the identification of available technology solutions. Focusing on leveraging packaged software, process design is conducted within the context of potential package solutions. Variances from available product capabilities are introduced after evaluation of alternative process approaches.
The Problem
While there has been significant progress in understanding and improving the business process at The Company, the current process design technologies have been limited to fairly standard desktop diagramming, word processing and presentation tools. The challenge lay in making sure both the manual and automated systems worked together in harmony. The I.S. engineers began thinking "outside the box" and decided to use simulation modeling to achieve this goal.
The Solution
During the first half of 1999, the organization introduced ProcessModel to improve the quality, design and value, as well as the analysis and delivery of business processes. An evaluation of available tools identified ProcessModel simulation modeling as providing both an improved diagramming technology and the opportunity to apply simulation techniques to process design work.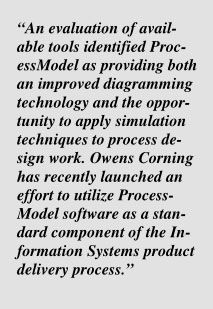 The Company has recently launched an effort to utilize ProcessModel software as a standard component of the Information Systems product delivery process.
The Results
The application of this technology was identified as providing value by helping to improve productivity within both Information Systems and the business pertaining to the analysis and design of processes. The models:
Increased likelihood that Information Systems investments deliver the anticipated value
Helped avoid technology expenditures by identifying opportunities that can be better addressed through process changes
ProcessModel was introduced by applying it to a few pilot projects. Once the value had been demonstrated to Information Systems management, representatives from each development team were selected as the initial group for deployment.
One person was positioned internally to provide consultation on both the application and technical support of the tool, with a plan to develop this expertise on both continents.
Storage locations were established on The Company's internal network to provide access to models, best practices (including ProcessModel published tips & techniques), and other communications about the product.
Future Applications
"Our long-term plan is to construct a library of models that represent all of the significant business and system processes within The Company. We will not, however, have a modeling project. Rather we will integrate the development of models into all significant information systems projects.
To accomplish that, we need to develop a resource pool of people capable of producing models and continue to demonstrate the value of modeling on projects. The availability of these models will better position us to:
Describe the capabilities of the process and system to business units or locations being evaluated for deployment
Improve the understanding of the larger business process by operators of the various process components
Share best practices between facilities, thus leveraging our investment in global processes and technologies
Position us to more efficiently evaluate proposed process & system modification and identify productivity and service improvement opportunities.
We anticipate that we will have help in building our library of models. As various parts of the organization are exposed to the capabilities and value of process modeling and simulation, we anticipate that process organizations will begin to adopt ProcessModel as a tool to evaluate and manage their portfolio of processes.